Welcome to Ariannah's Cloud/Nana's Little Angel. This website was made to honor our granddaughter Ariannah Ophelia-Havannah. Our little angel was born sleeping on May 23, 2004 at 6:37 pm. She weighed 13 ounces and was 10 inches long. She was so beautiful, so precious, and so tiny. I had no idea just how much this tiny beautiful precious angel could have impacted my life. I love and miss her so very much, not a day goes by without me thinking of her and wondering about all the things that she would be doing today. My life will never be the same, because I have been touched by an angel! I am truly sorry for anyone that has found us due to a loss of a baby or loved one. My heart goes out to you all. We know all to well the pain and heartache that you are going through. I wish that I could take away the pain and emptiness from you all....I hold on to the hope that one day we will be reunited again.
~Ariannah Ophelia-Havannah Garcia...Forever Loved, Forever Remembered~
Some things that we offer here at Ariannah's Cloud are Birth and Life Certificates (free of charge) via email. We have a "Prayer Request" page, where you can request prayer for anyone who is in need. You can find this under the navigation bar to under "Prayer Requests". We have a website called Angelic Playground, where all of heaven's angels can have a memorial made for them, you can find this website under "Memorial Site" on the navigation bar. On our "Links" page you will find many of great recourses that may help you cope with your loss. Have a look around our website and enjoy your stay here with us. Please don't forget to sign our guestbook before you leave. We really enjoy reading all of the wonderful comments that you all leave.
If you have a memorial website to honor your angel, you can request one or all of our awards, we would be more than happy to send them to you. Just go to our awards page, the link is on the navigation bar. Also, if you would like to participate in our "Banner Exchange", please visit our "Banners" page, there you can take our banner for Ariannah's Cloud/Nana's Little Angel, and link it back to us at here. We appreciate your help.

We hope and pray that you will find peace and happiness in your hearts through this journey in your life, and one day may your heart be able to smile once again. God bless you all. Angel & Anthony, Ariannah's Nana & Papa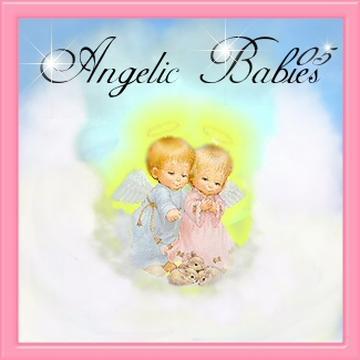 Please come and join us at Angelic Babies Support Group. You don't have to go through your grieving alone, we are here to support you and pray with you. Remember, "You Are Not Alone"

Fill out your email and click the button to join Angelic Babies